Navigation
Graphic Solutions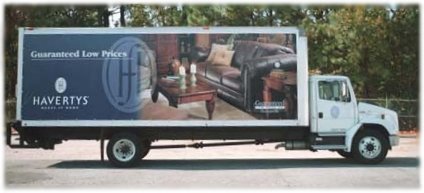 Why Fleet Graphics?
Fleet graphics are the most efficient way to build brand awareness and promote your products and services. Fleet graphics is a form of outdoor media that studies show, provides the widest audience reach of any other media form. Surveys have also shown that fleet side ads create a powerful and positive impression of the advertised brand. Finally, fleet graphics, as a "production only" media form, has no advertising space or broadcast time costs and is therefore one of the lowest cost forms of advertising media available.
Widest Reach...
According to The Arbitron Outdoor Study, outdoor advertising reaches 96% of Americans, which is the highest of any media.
Powerful and Positive Impression...
A National Family Opinion study on the effectiveness of truckside advertising yielded a 52% increase in brand awareness in 18-54 year olds with household incomes >$50,000. An article outlining the study can be seen at www.medialifemagazine.com, archives, search word: Peoplepc, in the article "delivering brand by the truckload "

The American Trucking Association's study; The Visual Impact of Trucks in Traffic, showed 96% noticed truckside ads, 98% said the ads created a positive image for the company, 96% said fleet graphics had more impact than billboards.
Low Cost...
When the cost of fleet advertising is evaluated alongside other means of advertising, it is clear that fleet advertising delivers the most cost-effective solution to bring your message into the marketplace. The cost of advertising is generally measured by what it costs to generate 1000 impressions or 'eyeballs' for a given ad. This is amount is known as Cost per Thousand (CPM).

Below is a comparison of CPMs typically achieved by various advertising mediums. As you will see, fleet graphics take significantly fewer dollars to produce the same number of impressions as other common forms of advertising.